Enriching workshop organized by TIT&S Bhiwani, led by Prof. Nidhi Gupta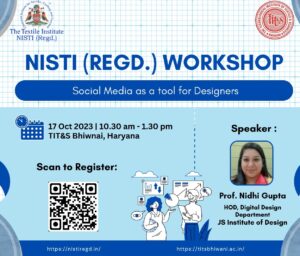 🌟 Explore the Art of Visual Merchandising! 🌟
Join us for an enriching workshop organized by TIT&S Bhiwani, led by Prof. Nidhi Gupta, HOD, Digital Design Department, JS Institute of Design.
📅 Date: October 17th, 2023
🕐 Time: 10:30 AM – 1:30 PM
📍 Venue: TIT&S Bhiwani, Haryana
The Social Media Workshop is being organized under the aegis of NISTI (Regd.), New Delhi in an effort to bring new concepts, knowledge and its application to students to enable them to be current, upgraded and enable their contribution to the profession they are entering.
🎓 Workshop Objectives 🎓:
✅ Expand understanding of social media as a new-age digital tool
✅ Application of social media in a designer's career
✅ Apply the learning into making relevant social media posts to brand and communicate
✅ Don't miss this opportunity to gain valuable insights.
✅ Secure your place today!
https://forms.gle/uraVTt876XEuyhXy5
📞 For registration and details, contact our counselor at 9990756684
Join us on October 17th for a transformative journey! 🌟