Explore the Art of Visual Merchandising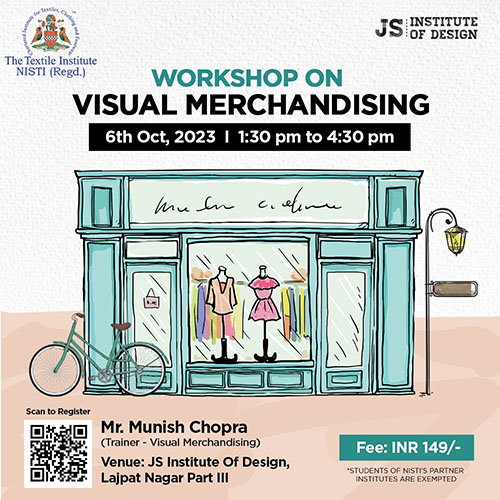 🌟 Explore the Art of Visual Merchandising! 🌟
Join us for an enriching workshop organized by JS Institute of Design and NISTI, led by the renowned Visual Merchandising Trainer, Munish Chopra.
📅 Date: October 6th, 2023
🕐 Time: 1:30 PM – 4:30 PM
📍 Venue: JS Institute of Design
💰 Fee: ₹149 (Students from NISTI'S partner institutes are exempted)
Unlock the world of Visual Merchandising and elevate your design skills! 🛍
🎓 Workshop Highlights 🎓:
✅ Certificate upon completion
✅ Introduction to Visual Merchandising
✅ Deep Dive into Branding
✅ Mastering Window Displays
Don't miss this opportunity to gain valuable insights and boost your design career. Secure your spot today!
🔗 https://forms.gle/5mubznYTsqdYESWq6
📞 For registration and details, contact our counsellor at 9310047450
Join us on October 6th for a transformative journey into Visual Merchandising! 🌟